Transitioning to a Raw Dog Food Diet
Henry is officially 10 months old, and it's time to start transitioning away from his puppy kibble diet—plus, we can tell he's SO over it and is craving something new–definitely a struggle for us! (Click here to read how we get through our puppyhood struggles!)
Even before we adopted Henry, and after reading about the health benefits involved, we knew we'd be putting him on a raw dog food diet. We had already looked into several different companies, and already had a few ideas of who to go with. When Faim Museau reached out to us, it was serendipitous. We had heard so many great things about the quality of their raw dog food that we were thrilled to finally try it and let you know what we thought.
The idea of switching to a raw dog food diet seemed a little daunting to me at first; I had so many questions (which I'm sure those of you looking to switch up your pup's diet are probably wondering as well!) How complicated is it to make the change? Will it upset their tummy? What are the benefits of a raw dog food diet? What type of meat would be best for my pup? How will I prepare the meals? How will I measure and calculate the exact amounts needed in a day? How will I know he's getting all the necessary nutrients? And the list goes on!
The idea of switching to a raw dog food diet seemed a little daunting to me at first; I had so many questions!
For me, simplicity is key. Faim Museau has made it so easy to order directly from their website. There is even a subscription option where you can customize your delivery frequency. You get the same raw dog food order, as often as you need without having to worry about a thing! How awesome is that?! Makes me think of those meal subscription services like Goodfood or Chef's Plate for humans, but it's for dogs. So fancy.
HENRY THE SMOL
We'll get some acrobatic spins and excitement barks from Henry when those Faim Museau raw dog food medallions come out.
Faim Museau makes the entire process simple, from start to finish.
First, I started by filling in all the basic information about Henry (weight, age, breed, allergies, etc). Once all that was entered, I was able to view my custom nutrition plan, along with some suggested raw dog food products. I especially appreciated the suggested meals; this was very helpful for someone like me who is totally new to the raw dog food diet and had no idea where to start. They also detailed what the daily serving should be and how to transition to a raw dog food diet (thank-you for these helpful tips!!) In Henry's case, he'll need 1 and a half medallions a day (Smol is 15lbs). To transition to a raw dog food diet, Faim Museau suggests skipping a couple meals so that your pup has "cleared out" their previous diet and is ready to introduce a new one. There are different methods to do this, however. I've also heard about the gradual transition, incorporating a little bit of raw dog food in your pup's usual food and slowly increasing the ratios of raw to kibble, until the meal is completely raw. Whatever works best for your pup and their tummy!
Faim Museau has a range of ready-to-serve meals including chicken, beef, lamb and duck, turkey and sardine and the list goes on! There are also hypoallergenic options for puppers with sensitive tummies, treats and bones & sardines. We opted for the recipes they recommended for Henry's caloric and nutritional needs: Simply Beef (28$) (as a good starter option), Beef & Apple (30$), and Lamb & Duck (42$). There 24 medallions (6lbs) in each package, so with these three options, I estimate having enough meals for about 1 month and a half. We also threw in some crunchy duck's feet treats (19$)! It's important to expect things to be a little pricier when making the switch to raw, so make sure you plan for that.
Their ready-to-serve medallions are a simple, time-saving option for me. I just take a few out of the freezer, and pop them in a tupperware to thaw in the fridge. We opted for a gradual transition, incorporating some of our Fromm Puppy Gold Kibble in the first couple of days. Our ratios went something like this: day one, 25% raw to 75% kibble, day two was half raw/half kibble, day three 75%-25% to finally complete the transition by day four.
We started with Simply Beef and put the raw dog food in the fun West Paw Toppls, otherwise he would literally inhale his meal. Now he knows it's time to eat when I open the fridge and fill up the Toppl! We'll get some acrobatic spins and excitement barks when those Faim Museau medallions come out. Notwithstanding our best efforts for a smooth transition, though, Henry would pick out the kibble and go straight for the raw. Step aside cereal, I want the meat!

We placed our order by Sunday and received it on Thursday, which is exactly as expected with any online meal subscription program. Items arrived frozen in one of those insulated boxes—totally worth that 8.00$ shipping fee—(just be careful when you open your box. Make sure to read the warning and not to touch the dry ice with your bare hands, you'll hurt yourself! Learn from my mistakes.) Their website details the handling involved, for instance never leave thawed medallions at room temperature for more than 15 minutes and always clean any surfaces and bowls that have come in contact with raw dog food. A portion of the thawed meat can stay in the fridge for up to 3 days, so it's important to keep track of this and plan accordingly.
All in all, our first week transitioning to a raw dog food diet with Faim Museau has been awesome; not only is Henry happy and has a great appetite but he is excited to eat again! We haven't experienced any tummy troubles either: initially we were worried by his smaller, harder stools, but I checked their website and that's because he's absorbing more of the nutrients from his food, and this is totally normal! Hurray for smaller, less odourous poops!
Easy to order, delivered right to our door, Faim Museau has made our transition to a raw dog food diet a simple and enjoyable experience. We can't wait for our next order!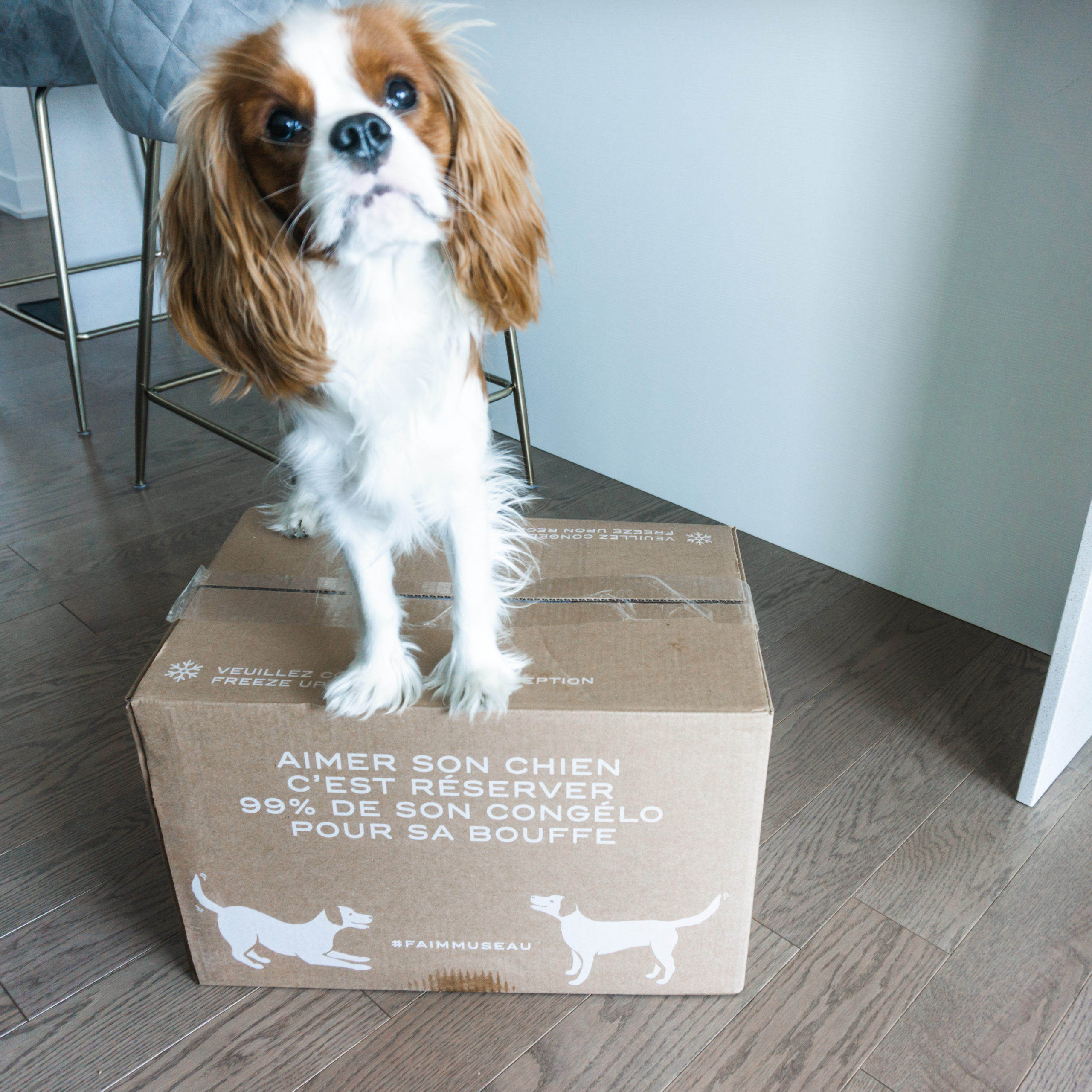 Disclosure: Although Faim Museau meals were gifted to promote their online delivery service and gorgeous new packaging, we're sharing our honest review about the items and the delivery experience as a whole. Please keep in mind that some of the links included in this blog post are affiliate links and if you go through them to buy something, I will earn a commission. I link companies and their products because in my opinion, they're good quality. The decision to purchase something is completely and totally up to you.
Enjoyed this blog post? You might also dig these: 
Do you love apparel and accessories as much as I do? You'll love this series. Every week, step inside Smol's Closet as I share my product recommendation of the week. This week: Zozo's Paw Take Center Sage Bandana!
I baked apple, sweet potato & oat dog muffins with Cu Bakery Snacum baking kit. Such a super easy way to bake something cute and yummy for your dog!
Most of what I know about taking care of Henry has come from chatting with fellow dog moms and reaching out to the online dog community. As part of a new series of blog posts, I'll be interviewing a new dog mom every week. I've made so many awesome encounters and I want to share them all with you!
This website is a participant in the Amazon Services LLC Associates Program, an affiliate advertising program designed to provide a means for sites to earn advertising fees by advertising and linking to amazon.com. As an Amazon Associate, I earn from qualifiying purchases.