Planning A Puppy Pawty: Henry's Tropical First Birthday!
Alright, call us crazy, but yes, we planned a birthday pawty for our dog.
Henry will only turn 1 once, so we figured, why not go all out? (As if we need an excuse to spoil our dog, am I right!?) Looking back at all the pictures and videos from the celebration, we don't regret it one bit. What made it extra special? The awesome people of the Montreal dog community we've met through Instagram and different dog-related events who came to celebrate with us. Thanks again to our awesome friends for spoiling Henry on his first birthday! You rock!
So, as soon as we figured out the who, where and when details of the party, we jumped right in to the what, why and how!
I'm thrilled to share our party-planning with you, and I was hoping this could even serve as a guide for the next get-together you host (with dogs or not!) Enjoy more fun moments featured in Henry's Instagram story highlights here.
Disclosure: Please keep in mind that some of the links included in this blog post are affiliate links and if you go through them to buy something, I will earn a commission. I link companies and their products because in my opinion, they're good quality, and I actually use them. The decision to purchase something is completely and totally up to you. And if you do choose to purchase anything through the affiliate links in my blog posts, I'm super grateful, as your support helps to keep this passion project going!
First things first *opens Pinterest app* every good party needs a theme!
You'd be surprised how many different dog party themes you can find with a quick Pinterest search. So, I guess I'm not the only crazy dog parent out there LOL Don't worry guys, I made a pinterest board for this one!
Theme Choice: Tropical Vibes
Theme Choice: Tropical Vibes
Hit with a couple heatwaves the last months, at the time of planning the party, Montreal temperatures had been skyrocketing well into 40 degrees Celsius (which isn't typical). It seriously felt like Hawaii weather, and I wasn't mad about it. So I thought, why not find a theme to fit this weather? Tropical Pawty it is! I'm seeing bright colors, pineapple, palm trees and all the fun tropical things!
In addition to the heat, the theme just HAD to be pineapple related. Why? Well, the Cavology pineapple bandana was the first EVER accessory we purchased for Henry, before he was even born. It was also his first Halloween costume. Plus, I literally live by the pineapple mantra: "Be a pineapple: stand tall, wear a crown and always be sweet on the inside". I don't know who to give credit to for this quote, but thank you, we can all benefit from a little kindness. Gotta love a good metaphor!
Now that we had the pawfect theme, the wheels started spinning. Juan and I love to host, and we make an excellent team.
He loves cooking and I love checklists, and I don't know if you know this about us yet, but we're both a little extra. Basically, it makes us happy to make our guests happy. Seeing as we'd have the party in Juan's parents' backyard at around 4pm, we had to feed our hoomans! Of course, our menu had to involve summer-staples with a tropical twist, plus, for safety reasons, we had to choose food that would be easily served as an individual portion. Check out what Chef Juan came up with:
As guests arrived, we served two different starters: Hawaiian Salad (mixed greens, zucchini noodles, diced pineapple topped with a berry vinaigrette) and Guacamole & Fried Plantane Chips.
These were followed by our tropical Tiki Tacos (home-made pickled red cabbage, avocado, spicy mayo and thin skirt steak on a mini-tortilla) & Hawaiian Hot Dogs. To make it fun, we had two choices of toppings: Mango salsa (we found this at Costco!) and a home-made pineapple salsa (pineapple, red onion, cilantro, lime) Juan made the pickled cabbage for the tacos the night before. Check out the recipe he followed here.
And last but not least, dessert! We opted to purchase desserts, but boy oh boy were they delicious! Our inspo for dessert was from our trip to Hawaii in January 2019—if you ever have the chance to eat mochis & malasadas in Hawaii, do it! So delicious. Mochis are easy to find here (yay Costco! Not authentic, but hey, it works!) but the closest thing to malasadas that we could think of here in Montreal are Chef Tony Rinaldi's AMAZING Bomboloni. They're made fresh to order, with over 5 flavours: nutella (my fave!), vanilla, pistacchio, salted caramel and limoncello (Juan's favorite)! Follow @cheftonyrinaldi on Instagram to see for yourself.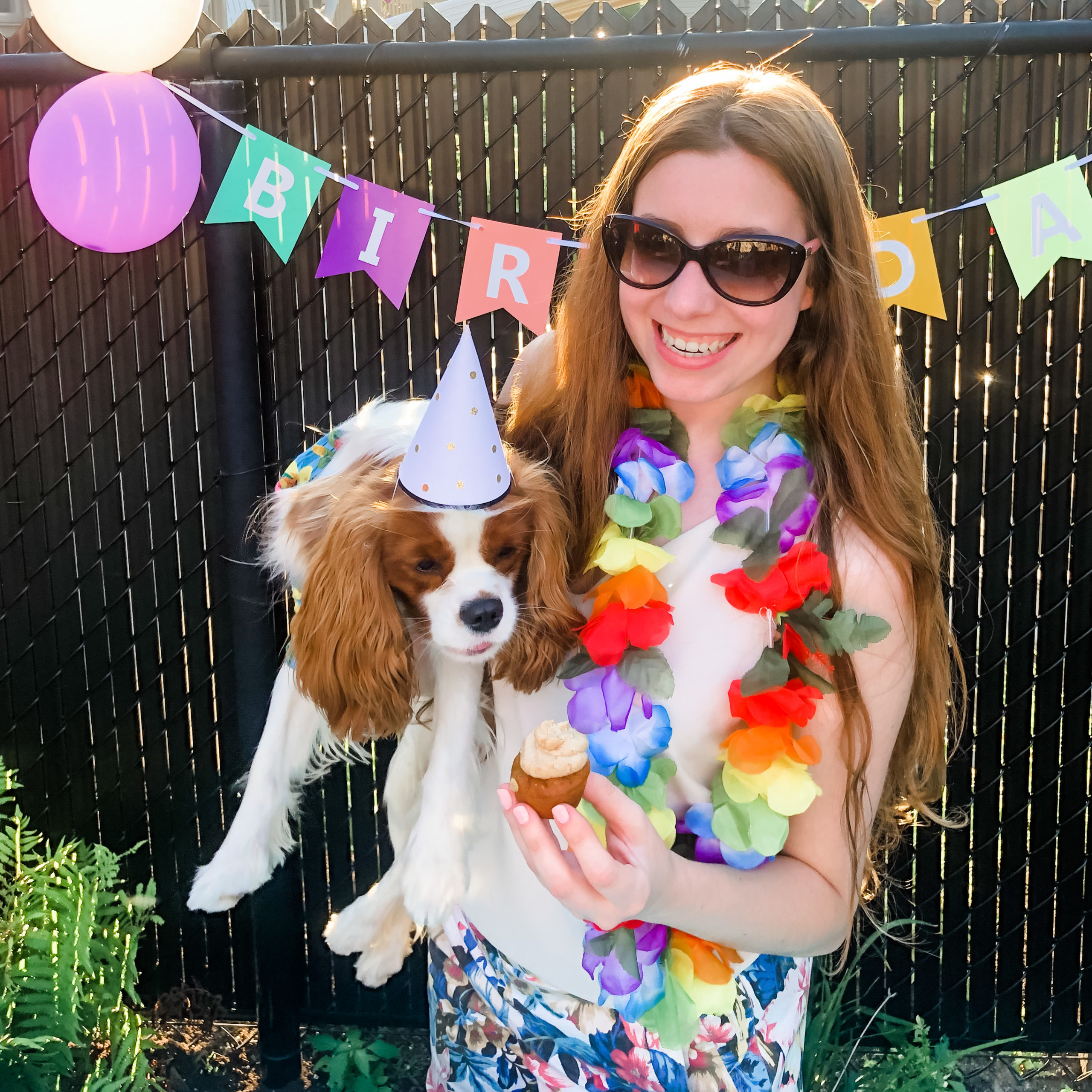 For the Doggos
Pinterest can really give you all the motivation to bake a birthday cake and treats for your dog. The reality of it is, if I'm making something for Henry from scratch, I want to make sure it's safe and has the healthiest ingredients for all the dogs. I would hate for the doggos to have tummy-troubles because of me. This time around, I played it safe with what I made for the pups, but maybe next time I'll be a little more adventurous! Juan's mom made all the dogs frozen watermelon pupsicles, and I made them yogurt & blueberry frozen treats! Pawfect for a hot day, and no complicated ingredients, just regular non-fat, sugar-free, natural Greek yogurt and blueberries. I had some fun making them with these sillicone dog bone and pineapple molds from Amazon! Dog mom tip: make sure to have dog water bowls out for all the pups!
In lieu of a birthday cake, the pups enjoyed delicious pupcakes made by Doggieville! What a treat! In addition to our home-made treats and pupcakes, we were spoiled by our friend Brigitte, founder of Billiebone. She made all our friends the cutest little loot bags filled with her delicious, home-made, organic treats! It was the perfect way to end the pawty!
Decor
With the theme and menu all prepped, there was one final touch to bring this party together: decor! With a scroll through Amazon here, and a trip to the dollar-store there, we were able to add some props and pops of color throughout the yard to tie our theme together! I'm a plan ahead type of person, but a last-minute shopper. I love how anything I needed for Henry's birthday was available quickly on Amazon. They literally have sooo many cute dog birthday accessories. Had no idea this existed until I became a dog-mom. Check it out!
However, the true pièce de resistance, was the cutest dog photo-booth! What better way to commemorate a fun day than with pics in front of a gorgeous photo-wall, and Balloon Boss nailed it! Because if it's not on the 'gram, did it really happen?! Bringing together vibrant colors and greenery, we had the perfect tropical backdrop to snap pictures of our precious pooches and their hoomans. This Montreal small biz does so much more than balloon walls, check them out for your next event!
We could not be more thrilled and grateful with how Henry's Tropical 1st Birthday turned out! On top of getting to spend time with all the cutest dogs and their awesome pawrents, Henry was completely spoiled with amazing gifts and treats! We cannot thank our friends enough!!! Special shout out to our friends Herky & Milton for vlogging the day—now we can relive the fun over and over!
Fall is here! Time to pupdate our wardrobes. Don't worry, I took care of all the scrolling & searching to help you find cute fall outfits, all in one place! Shop my Amazon store for instant shopping gratification.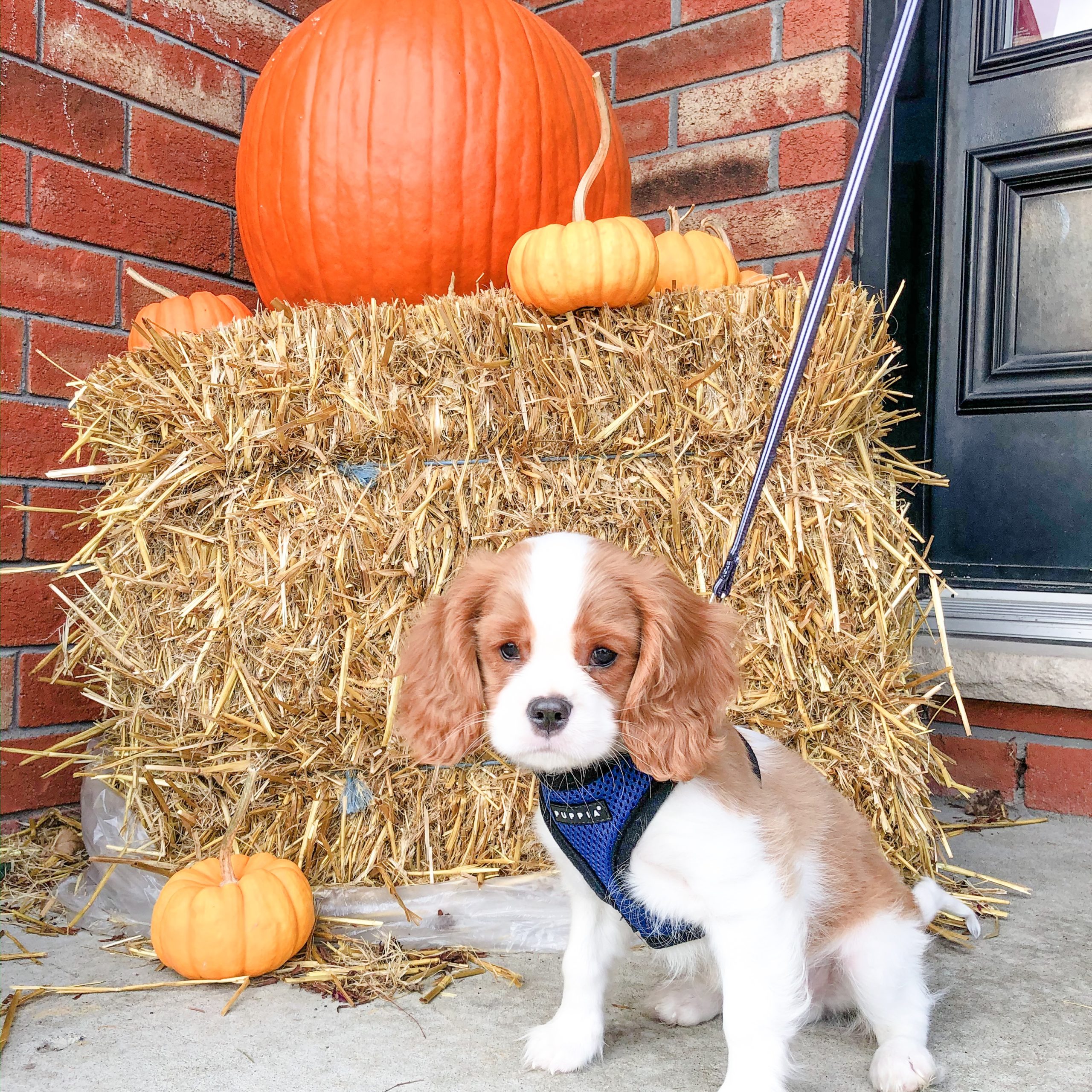 Enjoyed this blog post? You might also dig these: 
I baked apple, sweet potato & oat dog muffins with Cu Bakery Snacum baking kit. Such a super easy way to bake something cute and yummy for your dog!
Most of what I know about taking care of Henry has come from chatting with fellow dog moms and reaching out to the online dog community. As part of a new series of blog posts, I'll be interviewing a new dog mom every week. I've made so many awesome encounters and I want to share them all with you!
October is here, which means pumpkin spice everything, warm apple pie and scrambling to find the perfect Insta-worthy Halloween dog costume! Are you more spooky or silly?