Signs You're Ready to Become a Dog Parent
Becoming a dog parent: it's a bond like no other, one of unconditional love.
Thinking of becoming a dog parent? Do you love the idea of having a loyal companion who'll cuddle up beside you while you're reading your favorite book, or who'll walk beside you obediently across the park? Of course, us dog moms and future dog moms DREAM of this! Shopping for all the cute collar and leash sets, dog beds, toys, carriers and clothes: that was my vision of being a dog mom. My puppy is going to be the best-behaved, obedient, sweetest little thing, I thought, how hard could it be?
(If you've ever met Henry, you're probably laughing right now)
Yeah, so no one gives you a heads up about the sleepless nights, your favorite shoes being destroyed or the pee puddles you're going to step in with your socks. Well, I'm here to tell you, adopting a puppy is obviously THE BEST, but you have to be prepared. Click here to read how we got through the puppyhood struggles!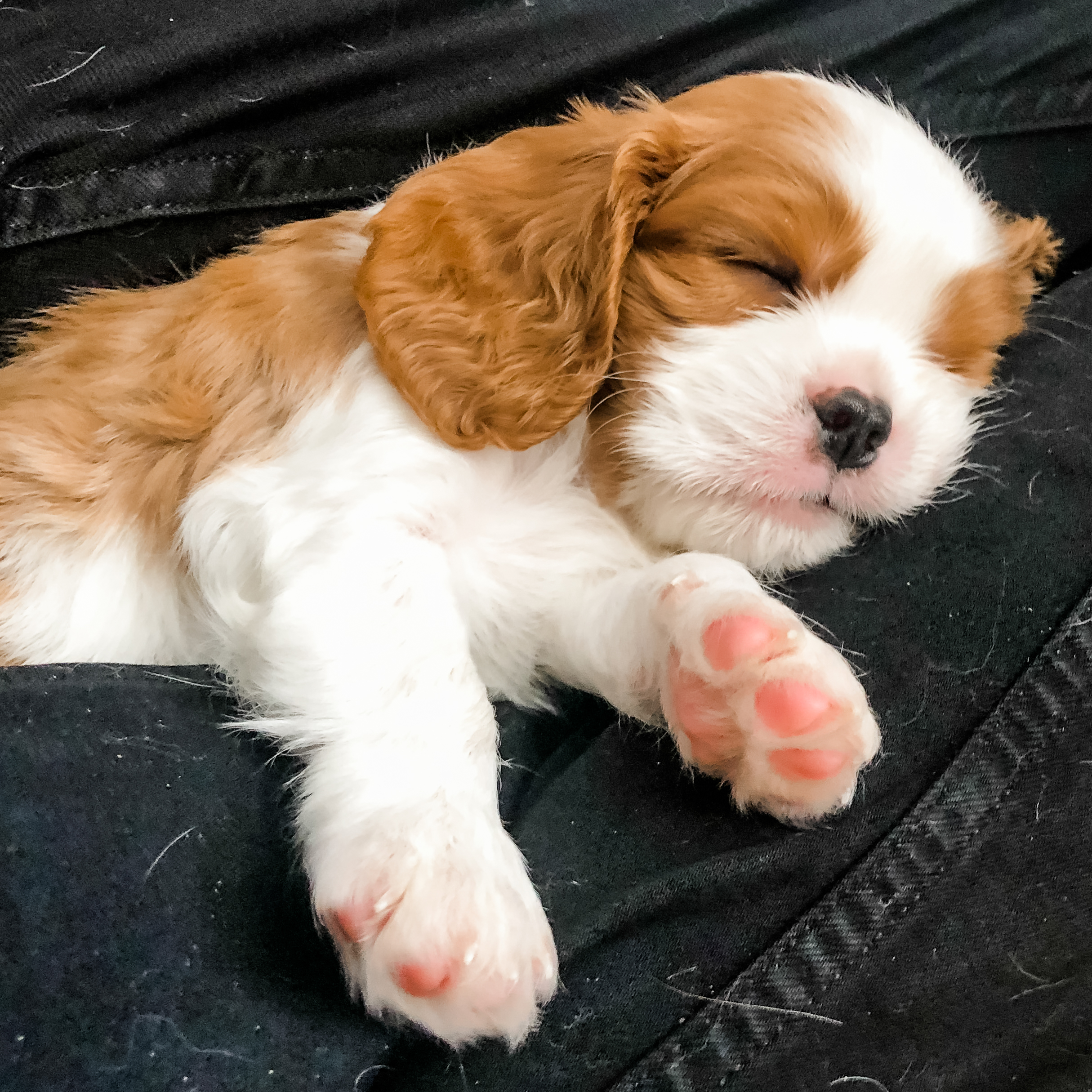 4 Questions We Asked Ourselves
In looking back on Henry's puppy days, I thought about our process and put together the list of [daily] conversations we had before getting serious about becoming dog parents. It basically came down to these four questions:
Have You Factored in Your Lifestyle and Schedule?
Have You Considered the Additional Expenses?
Have you been thinking about it a lot?
Getting a dog is not an impulse buy, it's a commitment. A commitment for life—well, the dog's life. Owning and taking care of a pet is a big responsibility (both timewise and financially). In our case, Juan and I have each had dogs in our families for the majority of our lives. Our friends have dogs, our other family members have dogs; basically, we've always been surrounded by dogs. We both knew that becoming dog parents was just something we were definitely going to do together. We've been together for over four years now, and we had spent the last three years talking about the future puppy we'd have. We were the ones our families trusted to babysit their dogs when they'd go out of town. It was something we talked about every single day, and something we got excited for as a couple.
Have you done your research on the breed?
To your new puppy, you're their whole world. It's a bond like no other, one of unconditional love. When becoming a dog parent, I feel it's important to choose a breed (if you're going that route) not only based on personal preference, but on your lifestyle as well. I don't know much about the experience of adopting a rescue dog, but I've heard they come with their own set of challenges in terms of how they adapt to their new environment. It's such a noble thing to adopt a rescue, but just make sure you're prepared to care for them. A breed like a cavalier was great for us; they're lap dogs that adapt to their humans' pace of activities. We knew Henry would be great for apartment life, but we're coming to learn that he also loves long walks and running free in a yard or dog park. He really does adapt to what we're doing, though. If we're all hanging out watching TV, he'll be lying on the couch with us. If we're busy working, he'll be sleeping (like right now). If you've got allergies, however, I don't recommend a cavalier (they shed a lot!) It would probably be best to search for hypoallergenic breeds. In general, they're a very friendly breed that love cuddles from their humans (well, from everyone actually!).
Have you factored in your lifestyle & schedule?
In my opinion, having a dog is easiest when you and the environment you'll be living in and your schedule are ready for this life change—because let's face it, a puppy will change your life! Especially in the first few months, Juan and I were so fortunate that our schedules allowed for us to work from home a lot. I couldn't imagine leaving a puppy alone in a crate for 8 hours. Even when I had to leave Henry alone for just an hour, I'd be worried. We really considered our lifestyle when thinking about becoming dog parents. We adapted our work schedule and we made sure we'd be home more during those crucial first few months. We created a daily routine and split up the responsibilities depending on who would be home. We also had to consider things like who would take care of the puppy if we'd be unable to. One thing is for sure, we would not have adopted a puppy if we were both working in an office all day, we truly believe that's unfair to a pup.
Have you considered the additional expenses?
So there's the cost of the actual dog, yes, but there are a bunch of added expenses that we don't always think about during the initial excitement of becoming dog parents. Of course, there is pet insurance, but it doesn't cover things like vaccines, routine vet visits or the surgery for spaying/neutering your pup when the time comes, for instance. There's a list of important puppy items you'll need right off the bat, but there'll also be those recurring monthly expenses like food, treats and toys. I highly recommend getting a subscription box for the first few months or even first year with your puppy (not ad ad!). We went with Pupbox for the first few months, but there are a bunch of really great ones out there like Woof Pack and Bark Box. All of Henry's first toys and treats came from those initial Pupboxes, plus they include some fun training tips and facts about your puppy at any particular stage in their life. Other expenses to consider can be things like puppy school, clothes, leashes, collars and other accessories as your puppy grows older. My advice: wait a few months before investing in the nice expensive accessories. Your fur baby will grow out of stuff before you know it!
In looking back at Henry's Instagram Posts and Story Highlights and reminiscing on the puppy days, I realize how quickly they flew by. And, like most dog parents, I'm sure, I wish I would've taken even more pictures and videos of him. It wasn't always easy, but thankfully Juan and I are a great team. We shared all the responsibilities, which made things much easier.
Having friends and a community to go to for questions and tips is amazing as well. We're thrilled to still be in touch with our breeder, who is always so helpful and kind. Would we ever consider getting another puppy? You'll just have to wait and see!
Disclosure: Please keep in mind that some of the links included in this blog post are affiliate links and if you go through them to buy something, I will earn a commission. I link companies and their products because in my opinion, they're good quality. The decision to purchase something is completely and totally up to you.
Fall is here! Time to pupdate our wardrobes. Don't worry, I took care of all the scrolling & searching to help you find cute fall outfits, all in one place! Shop my Amazon store for instant shopping gratification.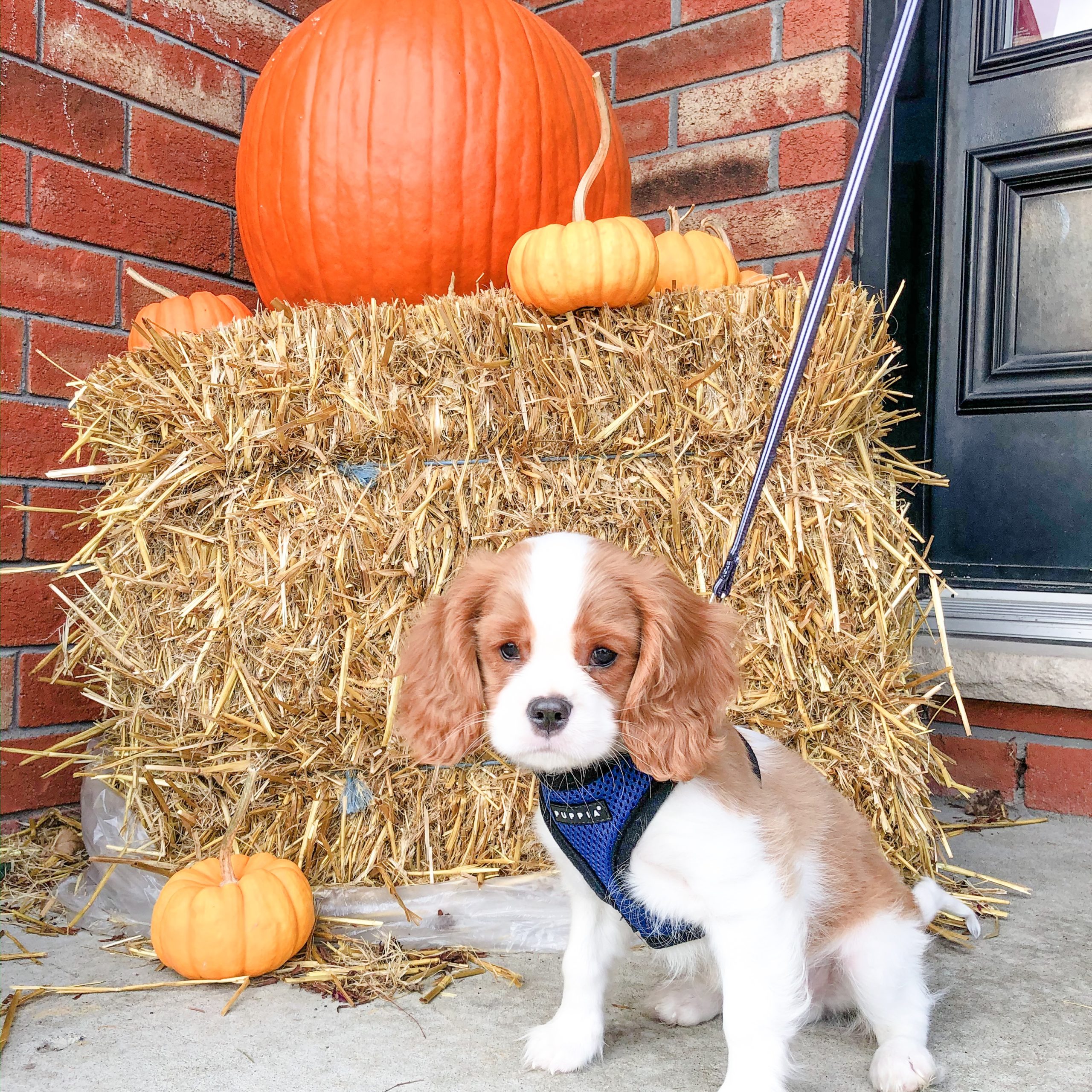 Enjoyed this blog post? You might also dig these: 
I baked apple, sweet potato & oat dog muffins with Cu Bakery Snacum baking kit. Such a super easy way to bake something cute and yummy for your dog!
Most of what I know about taking care of Henry has come from chatting with fellow dog moms and reaching out to the online dog community. As part of a new series of blog posts, I'll be interviewing a new dog mom every week. I've made so many awesome encounters and I want to share them all with you!
October is here, which means pumpkin spice everything, warm apple pie and scrambling to find the perfect Insta-worthy Halloween dog costume! Are you more spooky or silly?
This website is a participant in the Amazon Services LLC Associates Program, an affiliate advertising program designed to provide a means for sites to earn advertising fees by advertising and linking to amazon.com. As an Amazon Associate, I earn from qualifiying purchases.