Smol's Closet
Pick of the week: Max-Bone Green Ani Jumper
Do you love apparel and accessories as much as I do? Then you'll love this series! Every week, step inside Smol's Closet as I share my product recommendation of the week! This week: the Max-Bone Green Ani Jumper!
Why You'll Love It
The rolled neck gives the Ani Jumper a timeless, classy design, true to the Max-Bone brand. The sizing chart is reliable, Henry's wearing a medium, as per his measurements. The jumper is made of super soft acrylic yarn, keeping Henry just warm enough. It's super simple to care for: wash in cold water, delicate cycle and hang to dry. We keep all Henry's clothes hung up in "Smol's Closet" on these cute velvet baby hangers on Amazon. It's just the perfect little fall and winter outfit, and pairs so well with neutral leashes!
When You'll Use It
Having guests over and want your dog to look extra put together? Maybe you're going for a walk on a cool, crisp autumn day and you want an extra layer for your pup. Perhaps you're enjoying dinner out on a nice dog-friendly terrace, or heading over to a vacation cottage for the weekend. Any scenario where you'll want your dog looking their best, the Ani Jumper is what you need.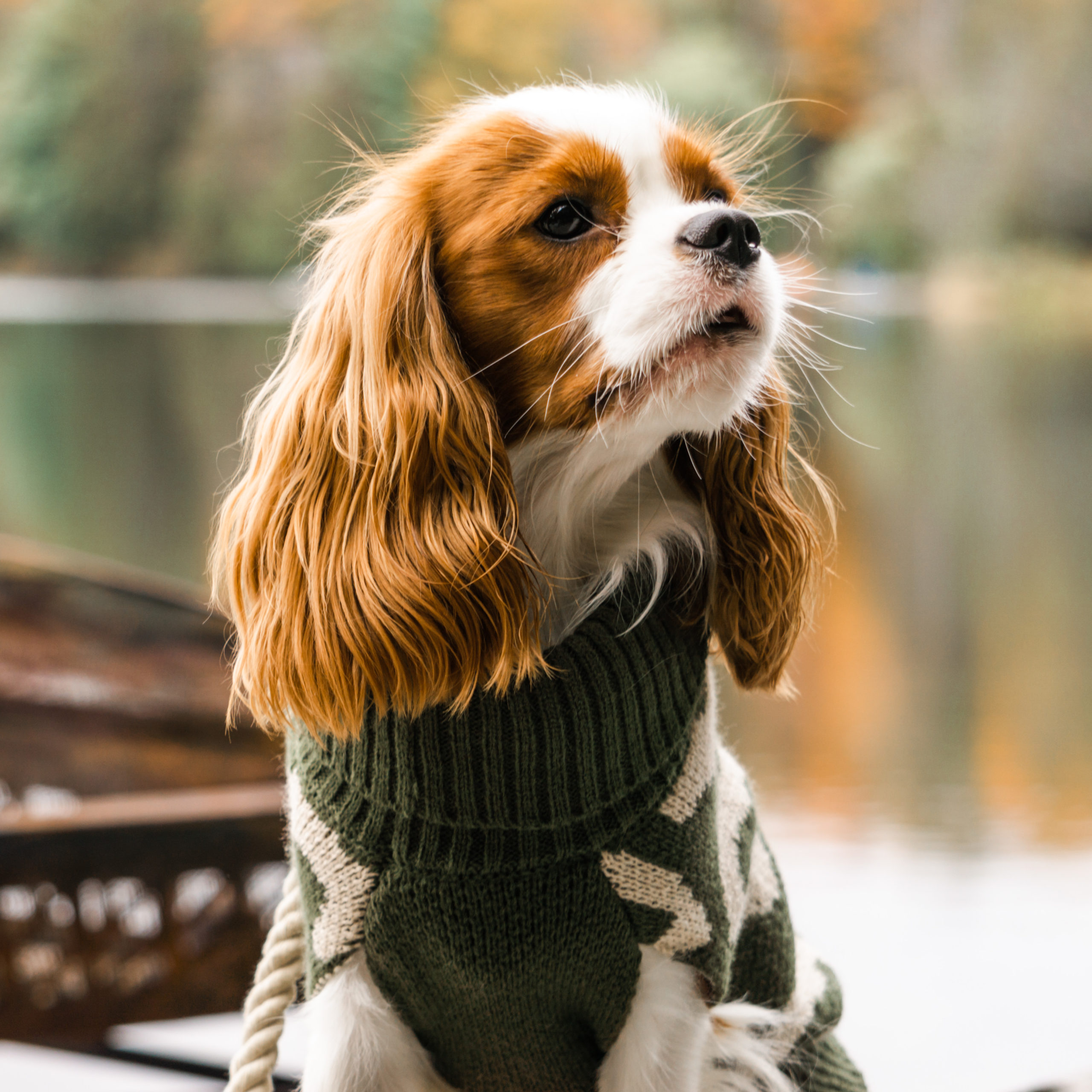 Disclosure: Please keep in mind that some of the links included in this blog post are affiliate links and if you go through them to buy something, I will earn a commission. As an Amazon Affiliate I earn from qualifying purchases. The decision to purchase something is completely and totally up to you. If you do decide to purchase something from one of these links, I thank you for supporting Henry The Smol's blog!
Enjoyed this blog post? You might also dig these:
Doing a little shopping? These 10 dog brands have everything you need from cute bandanas to home decor! Let's face it dog moms, who are all the cute accessories REALLY for, am I right?!
We're up to 4 walkies a day! It is the literal only way to get our excited pup to relax when we're home and trying to get things done. Gear up for your walkies in the city with our 5 essentials.
We've discovered so many great brands over the last few months and we're thrilled to share them with other dog parents. We're always looking for new pet products and suggestions: what should we try next?!
This website is a participant in the Amazon Services LLC Associates Program, an affiliate advertising program designed to provide a means for sites to earn advertising fees by advertising and linking to amazon.com. As an Amazon Associate, I earn from qualifiying purchases.