What to Expect When Neutering Your Dog
I never asked anyone the question what can I expect when neutering my dog? And I kind of wish I had!
The day had finally come, Henry was getting neutered, and as dog-parents, Juan and I had no idea what to expect. It was a pretty standard, routine procedure, however, so we weren't too worried, and we hadn't done a ton of research on the topic. We trusted our breeder and our vets implicitly. We always knew we were going to do it, our contract with the breeder required us to have it done at 10-12 months. This time frame was encouraged for proper hormonal development, and to avoid any health issues in the future.
So, what can you expect when neutering your dog? I'd like to be clear that this post is not meant to be educational in terms of medical information, but rather a recounting of what we as dog parents experienced, from both an emotional and practical perspective after neutering Henry.
I am a storyteller, and by no means an expert on the topic of neutering/spaying, just your friendly dog mama sharing her experience on getting her pupper neutered. If you're going through this experience soon with your dog, I've linked a couple of products within this blog post that I found to be helpful over the last couple weeks.
Disclosure: Please keep in mind that some of the links included in this blog post are affiliate links and if you go through them to buy something, I will earn a commission. I link companies and their products because in my opinion, they're good quality. The decision to purchase something is completely and totally up to you.
It might be a routine procedure, but they don't tell you about how stressful it actually is.
I've heard so many pros and cons about neutering/spaying early versus waiting until about 10-12 months. If you're looking for information on the topic, I recently came across a fellow dog blogger's post that goes in depth on the topic of neutering your dog
(with medical stats, so you know it's legit.)
Check out Stumps and Rumps' most recent post on The Importance of Spaying/Neutering here.
Everything we used can be found on Amazon and they're all linked at the bottom of the page for you. If you'd like to see more suggestions from Amazon, click here.
HENRY THE SMOL
What to Expect When Neutering Your Dog
Pre-Operation Prep
I feel like we're lucky to keep in touch with our breeder. Throughout the first year, she sent us little reminders like when to change food, or when to book the next round of vaccines. So when it came time to start thinking about neutering Henry, we received a message from our breeder, and started planning with the vet. This was about a month or so ahead of time. The clinic gave us an estimate, which helped to foresee how much it would cost. In our case, it was 740.00$CAD (taxes in). This included an umbilical hernia surgery (130.00$CAD), the surgery itself (292.00$CAD) the plastic cone (20.00$CAD), a blood test (146.00$) and other routine medications and such. For those who have pet insurance, this procedure isn't covered seeing as it is a planned event. One of the factors to expect when neutering your dog is definitely financial.
There are actually more comfortable alternatives to the plastic cone [of shame]! Thanks to the wonderful dog community on Instagram, we discovered the donut and surgical suit! The "donut" (a.k.a. protective inflatable collar or cloud collar) was a great option for Henry. Other recommendations included the surgery suit, a full body suit that covers the operated area to prevent your dog from licking. Your dog can also wear nothing if they're not "groomers"…unfortunately for us, Henry likes to make sure he's extra clean. **Little side note for the donut, especially for cavaliers, make sure to brush their ears every day when they're wearing it…Henry got so many mats, that was the only downside to the donut…I've linked a variety of different combs here!**
The Big Snip
The day before neutering Henry, our clinic called us to confirm our appointment, as they usually do. Clinique Vétérinaire Rive-Sud is honestly the best and most attentive clinic, they look after Henry so well! They suggested we bring him in the night before his operation, for practicality, seeing as he was booked for the next morning. Because he'd be staying overnight after his operation, this meant a whole two days without the Smol! (Not mad about the little break LOL) They called us the day after we dropped him off to confirm all went well! Little did we know that the easy part was done.
Going to the vet during COVID times is a little weird: they have you wait outside, and pick up your pet at a designated door. We waited in front of door number 1 and could already hear Henry's little barks from behind the glass. They initially brought him outside without a cone (I think they were taking him out to do his business at the same time we happened to show up). They left him with us, asking us to wait for further instructions. Boy was he happy to see us, at first glance he seemed perfectly normal, but I'm sure he knew something wasn't right. During the time we were waiting for the vet—without a cone—the first thing Henry did was "scoot" on the pavement in the parking lot and try to lick his wounds. Naturally, we jumped on him to get him to stop, and I immediately asked the vet technician when she came to greet us if he'd opened his stitches. The last thing we wanted was infection. She assured us everything was alright, and took us through the additional instructions. We'd have to give him anti-inflammatories for the first 4 days, and the recovery period would take 10-14 days…and we weren't allowed to get the stitches wet, so we'd have a nice smelly Henry for 2 weeks. Fun.
Rest & Recovery
The first night after neutering your dog will be the toughest. Henry slept with his plastic cone, in our bed as usual. Poor thing, they had to give him the bigger cone, meant for bigger dogs, because he's too smart for his own good: he figured out how to lick himself with the small cone. If I could compare it to anything, Juan and I felt like we were back in the first days of puppyhood. Henry wasn't crying or anything (although this does sometimes happen), I think he was just very uncomfortable and struggling to find a good way to sleep, which of course woke us up every few minutes.
The most difficult parts of neutering Henry were keeping him calm, away from his stitches and not worrying about every little thing. We called the vet on three different occasions: coming back from rainy walks, we thought his stitches were infected and we were worried about a weird bump under his hernia stitches. Spoiler alert, there was no infection nor need to worry about the bump. Everything was normal. I'll spare you the pictures in this blog post, but if you're curious to know what it looked like and why we were worried, feel free to email or DM me! **Dog mom tip: get yourself a paw ramp, this helped SO much to control the jumping on and off the couch and the bed.
Although a routine procedure, getting Henry neutered was a tiring process for us, reminiscent of the early puppy months. In our experience, when Henry wasn't sleeping, we'd have to have eyes on him at all times, or he would try to remove his donut. Even just the other night, while we were sleeping, he managed to remove it (I woke up with the donut beside me). We just brought Henry to remove his stitches this week, and thankfully the vet told us all healed well, and he's basically back to life as normal. We were still concerned about him licking his scabs and causing a rash, though. Our good friend CJ The Cavalier's mom suggested a wet rag to relieve the itching, which I found to be really helpful! We're happy to have Henry back to his old self again, barky and lively as usual.
All in all, we're both very happy we got him neutered because the ONE thing we hoped it would change, more than anything, actually happened: he stopped marking! He hasn't even tried to mark inside, and he now asks for the door to go outside. FINALLY!!! NO MORE BELLY BANDS.
If I had to do anything differently, I would've probably planned for more things to chew on to keep him calm and relieve his stress, but mostly to take his mind off the licking.
I've linked a few products that helped get us through the last couple weeks, below, as well as some suggestions I got. I'm hoping they can help you too! I'm happy to chat with you if you're going through this now, soon or have already lived it!
Enjoyed this blog post? You might also dig these: 
With each new season comes new accessories, for both you and your pup! I've put together a few of my favorite fall dog apparel and I think you'll agree when I say these will be staples in every stylish pup's wardrobe this season!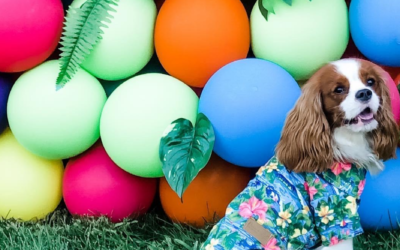 Alright, call us crazy, but we planned the ultimate tropical 1st birthday pawty for our dog. Henry will only turn 1 once, so we figured, why not make it special! (As if we need an excuse to spoil our dog, am I right!?) Looking back at all the pictures and videos from the celebration, we don't regret it one bit.
Henry's first birthday is right around the corner, so we thought it would be a great time to schedule his first ever groom! If you ever wished for a place where you could leave your fur-baby for the day, get them groomed, shop for them, enjoy a meal with them AND go swimming with them, look no further than Doggieville Montreal. Sounds like a dream, doesn't it? That's because this one-of-a-kind doggie complex is a one-stop shop for all your dog's needs right near the Lachine Canal.
This website is a participant in the Amazon Services LLC Associates Program, an affiliate advertising program designed to provide a means for sites to earn advertising fees by advertising and linking to amazon.com. As an Amazon Associate, I earn from qualifiying purchases.