Dog Mom Talk: Dog-Friendly Home Decor Tips
Just because you have a dog, doesn't mean your home can't be beautiful! This DIY, decorator QUEEN is proof of that. In this post, we're talking dog-friendly home decor tips, just in time for Spring, with dog-momager Monikah, the creative genius behind @cavalier.queen.daisy!
This sweet Cavalier's account is easily one of my favorites on Instagram, and she's also one of my first IG buddies. The originality, finesse and effort that goes into each post is seriously out of this world! Like where do all these glamorous ideas even come from!? 
As her new home was being built, Monikah shared little behind-the-scenes snippets of the process in her Instagram stories, and that's where we really got to know her style. What I admire most is how she finds a tasteful way to include Daisy's belongings seamlessly into her home. Give her a follow, her photos speak for themselves!
Read this Dog Mom Talk interview to get to know this dynamic, design duo's unique story and learn some tips for decorating a dog-friendly home!
Let's have a dog mom talk!
"I 100% consider Daisy when I decorate." 
In addition to being an adorable model, Daisy is also a little warrior. Can you share her story with us?
When I adopted Daisy, I had to do a bit of traveling as the breeder was located in a different state. During our little road trip, she ended up having several episodes of diarrhea which caused her to develop a sliding intussusception (which is where your intestines telescope) and had to have a major surgery. 
Before we had discovered exactly what the problem was, she spent her first weeks with us in and out of pet urgent cares. Her initial symptoms were regurgitation and inactivity, but later developed into full out vomiting, lethargy, and avoidance. She had started to crawl out of our arms and search for dark corners under the couch to crawl into.
At this point, we knew that if we didn't do something drastic, this would be her end. I look back with frustration as we never demanded an x-ray and instead watched as they simply tried to treat her symptoms. By the time they finally discovered the cause, we opted for emergency surgery. Her blood sugar was 28 despite the Caro syrup we'd tried to administer on her gums to keep her sugars up and as she was only 8 weeks old we had no idea if she would survive the surgery.
I remember whispering goodbye and kissing her on the nose before she went into pre op. That day was the longest day I'd ever experienced. After she made it out, the vet said when she opened her up, a large section of her intestines was grey and necrotic and would not have been able to last much longer. Luckily, she didn't have to add any staples, and only needed to rearrange them in order for them to start to regain some color. 
After surgery, she had a lidocaine drip for pain, and a pup size nasogastric tube sutured to her little hairs atop her head. She was such a little champ through it all. Unfortunately, ever since then, Daisy has just had the most sensitive stomach, so we are just very particular with what we feed her. She can't have a large range of meat, but she absolutely loves salmon and chicken and all the veggies.
I wish I could get Henry to "stay" in a decor set like Daisy does! She makes every shot look so effortless! When did you first start taking pictures of her? And where does all this inspiration and creativity come from?
I've been taking photos of Daisy ever since she was a pup. When she was younger, I would mostly photograph play time and incentivise her to pose with lots of treats. After a while, it was just natural for me to have my DSLR out. She would even run up to me expecting treats whenever I would take it out.
When I initially began Daisy's Instagram, I would mainly find inspiration from her toys. I would grab a bunch of cute toys from TJMAXX and create a whole entire theme around it.
As for inspiration, I find that a lot of it comes from bright, bold colors and a love for fashion. Whenever I feel like I'm in a slump, I always utilize Pinterest as my source. -literally never fails-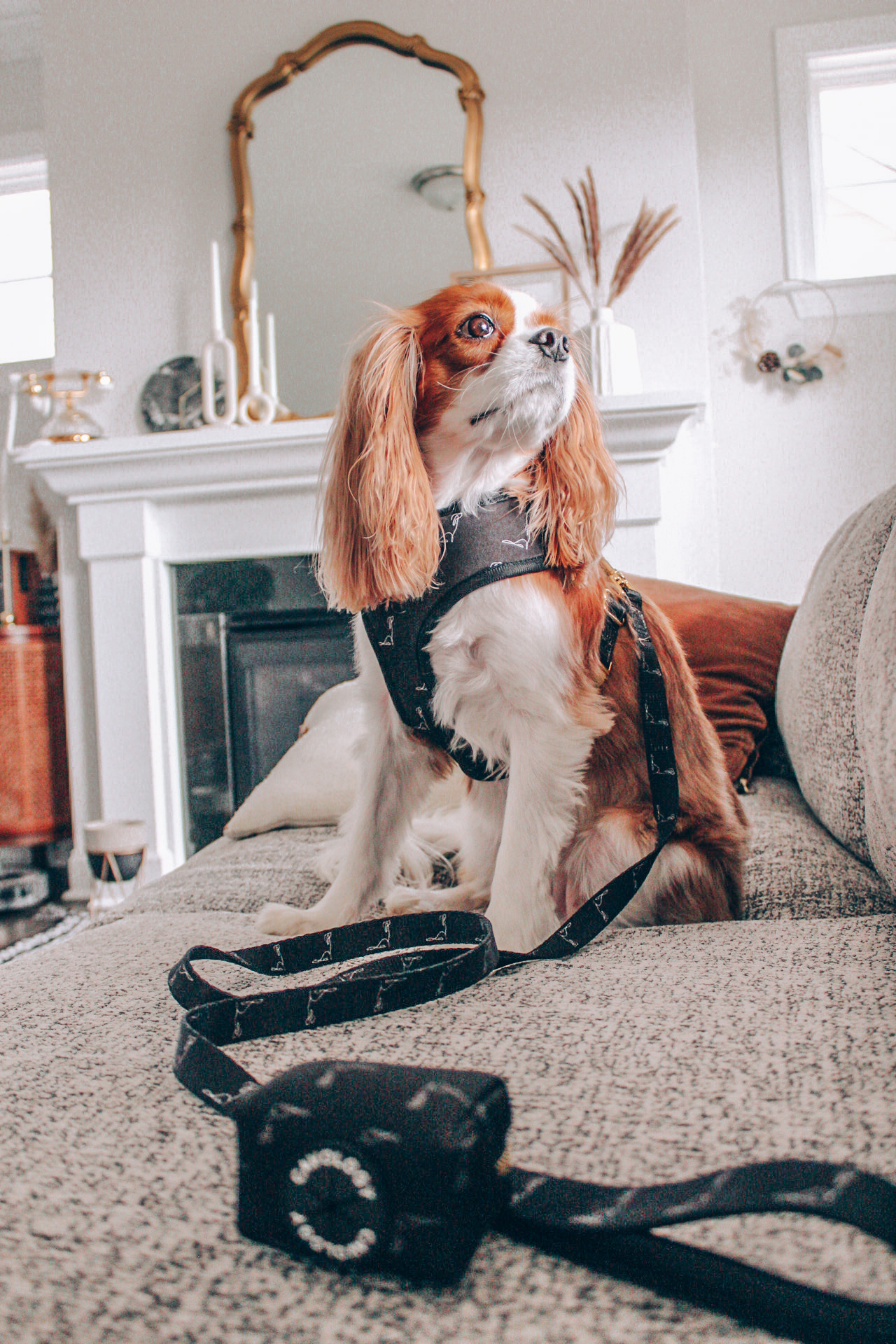 Your photos are beautiful! Do you have any tips you can share to achieve a good shot?
I personally love to take more close-up photos of Daisy and I feel like they have had better reactions than when I take full body photos. I like to only have about ¾ of her at most in the photo.
These are a few of my tips:
Really focus on their eyes: dogs hold so much expression in their eyes
Know your pup's limits: I always try to make photography sessions a fun experience for both Daisy and myself. The reason I take a majority of my photos indoors is because I find she gets less distracted when it's just the two of us. The times I've attempted to take her out in public for photos she was less likely to hold a pose or would wander off sniffing at something. This would cause me to get frustrated and impatient and then it would just spiral from there. I didn't want it to be something that we both dreaded, so I just decided that indoors would be our main source of creativity.
Use props or toys to mix things up! I like to use a lot of my home-decor elements for creative photos, like mirrors, for example!
I love flipping through your IG stories and seeing all the different home decor elements in your photos. Do you consider your dog when decorating your home? What are some of the dog-friendly home decor items that you recommend?
I 100% consider Daisy when I decorate. Having pups around the house can make for some difficulty when living in a stylish home. To offset the clutter of toys, treat bags, harnesses, leashes, etc., I opted for the use of multiple baskets and storage items.
When we initially adopted Daisy, we opted for many of the basic pet appliances like the black metal crate and a waterproof dog bed. Luckily there was a small space in our apartment where we could hide away her crate, but in terms of her dog bed, I had to get creative.
Dog Beds That Blend In
When Daisy was puppy training, I opted for a cheap option and went to TJMaxx by purchasing a $20 waterproof dog bed and making a simple removable covering for it. Looking back, this was definitely the best move as she ended up peeing on it 2-3 times in her puppy stages.
Fast forwarding 2 years, I noticed Daisy had begun to mellow out more and very much enjoyed lounging about. Unfortunately, our one bedroom apartment only provided her three options, our bed, her crate, and our couch – our couch at the time being the least comfortable option.
Because of this, I decided to pull the trigger on the Fable Memory Foam Bed as it not only promised comfort, but also a modern and simple style that worked perfectly with our home decor.
Now that we are in a single-family home, I'll probably add a couple of other beds throughout the house, like one of these this Foggy Dog Beds.

A Pet Crate That Doubles As Home Decor
Prior to our purchase of the Fable Pet Crate, we were using your typical black, metal crate which served us well during her pup stages. However, as we moved to a new house, I was looking for a more aesthetically pleasing piece which also provided Daisy with comfort and a feeling of safety.
The epitome of dog-friendly home decor, this crate is one of Daisy's favorite places to lounge, and it doubles as an end table! You can purchase it with either the white metal door, or the clear acrylic one. Initially, we picked the white metal one, however, after testing it out we realized it was too loud and clangy and were able to swap it out for the clear acrylic which has been perfect!
Seamless Storage For Dog Friendly Living
I love Wild One's Toy Kit; these color-coordinated toys make playtime match the decor! And these minimalist ceramic dog bowls from Fabel Pets are perfect for any dog-friendly home.
When it comes to storage, I turn to Amazon, Target and Ikea for inexpensive, practical finds.  To avoid having a cluttered space, I use airtight ceramic canisters for storing dog treats and food, without having to leave bulky bags out, and storage bins and baskets to hide dog toys, dog bandanas and leashes.
For a neat an easy way to store your dog's bandanas, try these curtain clips and this over-the-door rack for hanging leashes!
Last but not least, I use these amber glass pump bottles for her shampoo and sprays and then use a label maker to mark them. It's such a simple way to elevate your home decor and have your dog's grooming products match your space.
Although decorating your home with a dog can seem like a difficult task, Daisy's dog-momager makes it simple with her stylish dog-friendly home decor tips.
Personally, my spring cleaning project is to clean out and redecorate our home-office closet, so we have more space to store Henry's things. I'll definitely be turning to some of Monikah's recommendations as I beautify this little space.
If you're looking for dog-friendly home decor inspiration, and just overall Instagram eye-candy, head over to @cavalier.queen.daisy's Instagram account and give her a follow!
Our friends over at Lindsey & Coco also had the opportunity to catch up with Monikah and Daisy in December 2020, chatting about all things photography and style. If you enjoyed this post, you'll love her interview with Lindsey, here!

Enjoyed this blog post? You might also dig these: 
Fall 2021's must-have dog accessories are Cavology's latest drop, inspired by a cup of your favorite herbal teas! Shop high-quality, stylish harnesses, leashes and more in this blog post.
After two years as a first-time dog mom, I've learned a lot. Here are 4 realizations I've come to along the way.
Exploring dog-friendly Quebec City on our first ever road trip with Henry! Read more to learn about how we planned and the fun places we visited with our dog.